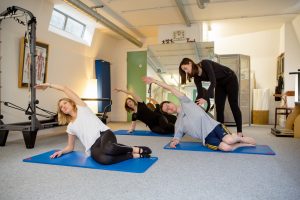 If Pilates is your passion and you love to work with others, our MK Pilates Matwork Teacher Training Diploma will give you all you need to begin your career. Look in the 'teacher training' tab on the menu for all our upcoming dates and fees.
Patricia is a member of the MK Pilates International faculty and at York Pilates Space we work with Michael King Pilates Ltd to give you a complete and comprehensive grounding in teaching Pilates Matwork. After completing all three of our MK training stages and being assessed by MK International you will be awarded the MK Pilates Matwork Diploma, which is recognised in Pilates Studios aound the world.
A lifetime's work isn't learnt in a weekend…..our Diploma courses give you 96 hours of face to face tutor time. You will also take extra time to work at home on your assignments and to participate in practice classes, including classes arranged at our studio, with real clients.  Because we know that learning to teach Pilates well is a big commitment, this year we have arranged the modules to take just one day of your weekend, rather than a whole weekend away from home. This gives you time between course dates to complete your assignments and digest the work, and doesn't take over all of your precious weekend.
From my years of experience as a tutor and assessor in this industry, I know that many students want to gain their qualification as quickly as possible and get out there to teach. I also know that they will never excel if they rush through a quick training programme without having time to learn, absorb and experience the work in their own bodies. Much better to slow burn and really get to know your subject, than to spark out through lack of confidence. Our MK Pilates Mat Teacher Diploma will give you support in your teaching practice and  confidence  to build your own business, whether that is teaching a few classes to friends, travelling the world with Pilates, or opening your own studio.